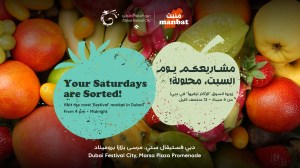 A joint initiative between Arada and the Ministry of Climate Change and Environment, the Manbat market promotes the best of the UAE's healthy, home-grown produce in a fun and family-friendly environment.
This season, local families can enjoy fresh fruits, vegetables and home-grown products such as artisanal honey, dates, dry fruits and spices from over 200 vendors and farmers actively participating in Manbat.
More than just a market, a trip to one of Manbat's pop-up markets is an experience the whole family can enjoy. As well as a variety of stores offering an impressive range of home-grown produce from all over the UAE, there are also child-friendly activations and play areas, tasting opportunities, workshops and other activities.
Location: Marsa Plaza Promenade, Dubai Festival City
Date and Time: Every Saturday
Time: From 4 pm till 11 pm