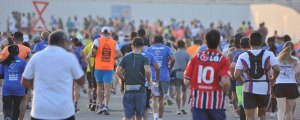 This is the 4th season of the Dubai Festival City Half Marathon with the strong support of Dubai Sports Council, Dubai Police, Dubai RTA and Dubai Municipality.
The city will host the marathon on the morning of Friday – 22nd October, organised by RaceME. The runners can take part into 21.1km, the 10km or 5km marathon. DFC also includes a 1km fun run for the kids to make them fit and entertained.
The event is open for anyone to participate and the race will take them through most scenic locations including the Dubai Festival City Mall, Automotive Park, Festival Bay, Marsa Plaza and Al Badia Residences. The venue offers range of food and beverages options for spectators and participants.
Click here to register: https://raceme.ae/event/dfc-half-marathon
Date: 22 October
Start Time: 6.30am
Ticket Price: From AED 50 – AED 275 (depending on the category)
Registrations: On or before 19th October
Location: In Front of Dubai Festival City Mall
Parking: Yes